The proprietor of the Stonedog's Mercantile, the old Montana Stonedog himself, is very pleased you've chosen to pay a visit, and he knows that you will find his Site Location Cards of tremendous help in your rockhounding searches for treasures across Montana.
Rockhounding should not be an exercise in frustration due to inadequate information that fails to get you to the sites where you want to collect rocks, minerals, gemstones, or fossils. Even worse is not knowing what to look for when you actually arrive at the designated place. The Stonedog has made a promise to you - to get you to a promised collecting site. And the information he provides will clue you in to knowing what to look for, either in the narrative or through the included pictures. The Stonedog wants you to have FUN and SUCCESS, not frustration!
The Stonedog has set a goal for his Mercantile to become the source of comprehensive, yet easy to use information about collecting in Montana, a source you have been looking for, so you will know where to go to be successful in rockhounding across Montana. The Treasure State offers hundreds of different kinds of gemstones and minerals, waiting for you to find them, together with many different kinds of fossils, and yes, even a bit of gold here and there. The Stonedog knows where some of those treasures are to be found, and he wants to share them with you. All he asks is that you go home with your treasure chests full to overflowing, and your hearts singing with joy at the pleasures you've enjoyed along the way!
The great state of Montana is a vast and diverse expanse that is truly the Treasure State, but knowing where to find that treasure you are looking for is difficult, at best! The Stonedog's intention is to help you find collectible rocks, minerals, gemstones, fossils, or that wonderfully elusive gold dust you've been dreaming of, hopefuly including a few eye-popping nuggets, if gold panning is your passion. And once you get to one of these sites, you should be able to find the treasure you are looking for, because he'll tell you what to look for, or better yet, will give you a picture or two so you'll know you've found the right stuff.
A map depicting where these sites are located across Montana will help you in planning your rockhounding trip in Montana, and in your SLIN© Card selection process. Remember, Montana is a BIG place, so give yourself plenty of travel time if you intend to visit more than one location.
To assist you in planning your rockhounding trip in Montana, with every order the most recently available Official Montana Highway Map will be included. This map is loaded with helpful information, and will aid in planning your routes, whether it be for a day trip to a single collecting site, or a much more extensive trip to numerous sites.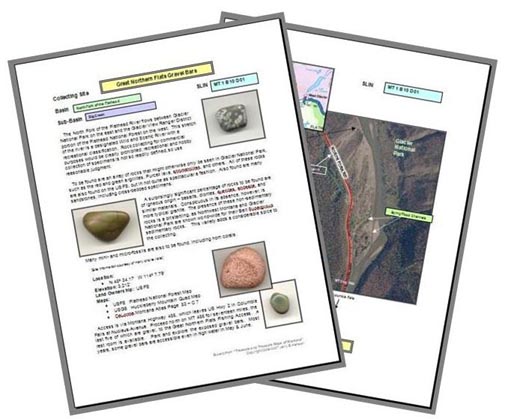 From time to time, new laminated SLIN© cards will be prepared for additional collecting locations, intended for use in the field. These cards are 9" X 11 1/2" in size, and are thermally laminated with plastic so they are weather and water proof. However, please don't fold, spindle, or mutilate them, as they are not totally indestructible!
Printed in full color, the front of each card provides good, accurate information you will need to get to the site, including Basin, Sub-basin, Section-Township-Range, GPS Coordinates, and a list of map sources that will show you the area in which the site is located. A narrative set of directions will get you to the site, as well. Photographs will also be included for most sites.
The reverse side of the card gives you detailed maps that will also show you precisely where the collecting location or area is to be found in the Treasure State.
You may view the front of the example SLIN© Card depicted above for collecting location MT 1 B 10 D 01, the Great Northern Flats site located just west of Glacier National Park on the North Fork of the Flathead River. The narrative that is provided should be sufficient to enable you to easily find the location. The reverse side of the card for the same location provides directional maps so you can find the location if you prefer maps to written directions.
Initially, more than a dozen locations have been documented in this fashion, and are available for purchase. These laminated cards are available at a cost of $4.95 each. All SLIN© Cards are mailed USPS Priority Mail Flat Rate.
A flat rate for shipping to any location in the United States of $5.75 per order will be added, regardless of the number of SLIN© Cards ordered. Should your order exceed the capacity of the standard mailer at this rate, the Stonedog's Mercantile will upgrade the mailer to accommodate your order, and will still only charge you the flat rate of $5.75. Postage for international orders will be calculated on a case-by-case basis, and you will be notified by email of the amount prior to finalizing your order. Every effort is being made to keep the postage costs as low as possible, yet still keep shipping time-frames at an acceptable level.
Follow the link below to select your SLIN© cards and to place your order.
Again, thank you for dropping by the Stonedog's Mercantile! The Stonedog hopes you'll come back often!